Sturgeon fishing with pro Columbia River sturgeon fishing guides Kevin Newell & Lacey DeWeert!
5 reasons to go White Sturgeon Fishing:

Catch the largest species of freshwater fish in North America!


Sturgeon fight hard! They run line off of the reel and jump, coming completely out of the water! These are definitely the strongest freshwater fish in the NW.


Sturgeon fishing trips are very productive. It's common for us to catch 15 to 30 sturgeon per day or more!


Keeper sturgeon average 45 to 50 inches in length and oversize fish over 5 feet happen all the time!


Sturgeon are easy to cook. They are boneless with sizable fillets and they taste great!

Sturgeon fishing on the Columbia River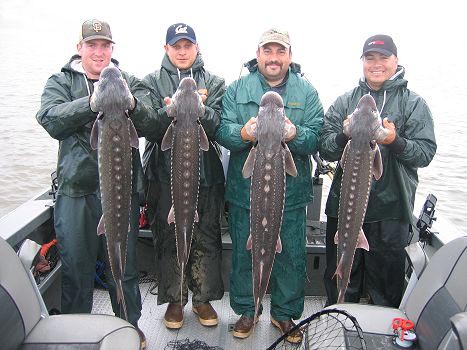 Sturgeon fishing near Astoria, Oregon!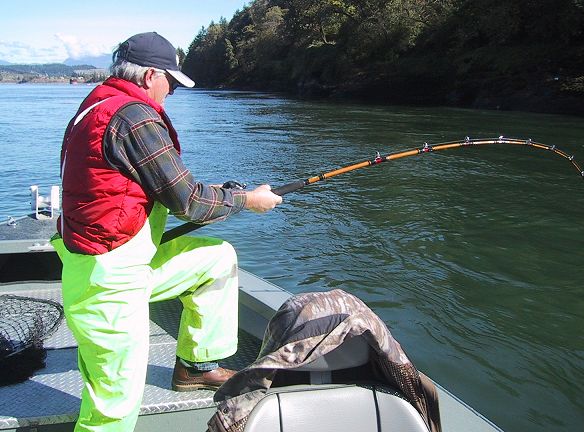 Battling a ten foot sturgeon near Bonneville Dam!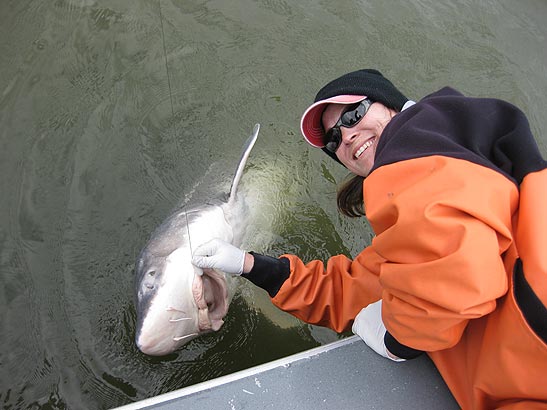 Pro Sturgeon Fishing Guide Lacey DeWeert with a BIG oversize sturgeon!
Sturgeon fishing on the Columbia River is hands down one of the greatest freshwater fishing experiences in the world! Anglers come from all over the nation and from all over the world to catch the Columbia River's White Sturgeon!
Having a great day of sturgeon catching goes hand in hand with having a great fishing guide who is knowledgeable about the fishery and is motivated to work hard to get you into the sturgeon and to keep you there. Knowing with a guide that knows sturgeon's behavioral patterns is a must if you want to have the best day possible.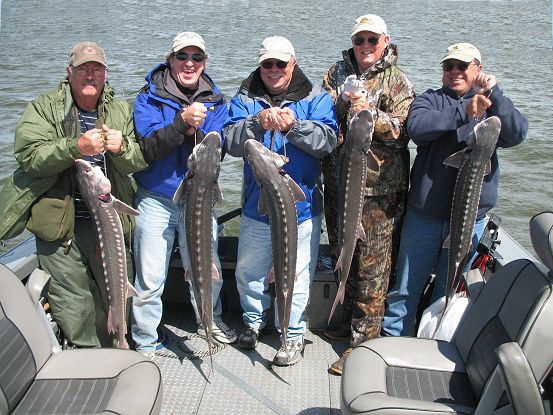 Keeper sturgeon landed on the Columbia near Astoria Oregon!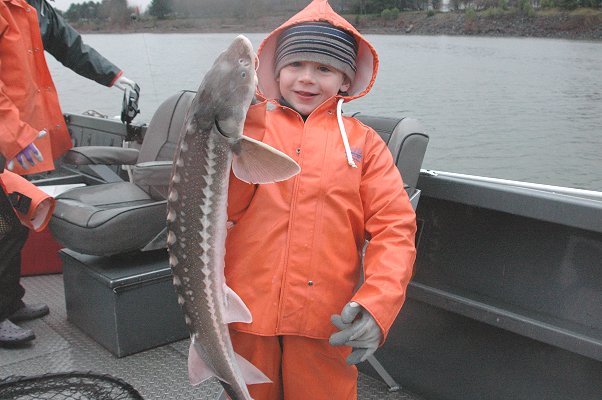 Master sturgeon fisherman Troy Schmidt with a up of a 2-3 year old White Sturgeon.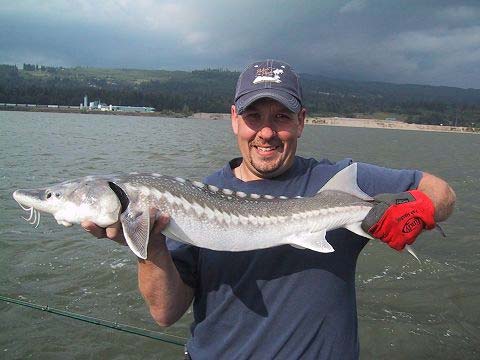 An undersized "shaker" sturgeon!
"Shakers" are sturgeon that are less than 38" (measured to the fork of the tail) in length. As you can see from the picture, even sub-legal or sturgeon that are "too short" are still big and definitely put up a good fight. Catching a large number of fish in this size range, plus keepers and oversize sturgeon is what makes a sturgeon fishing trip such a great experience!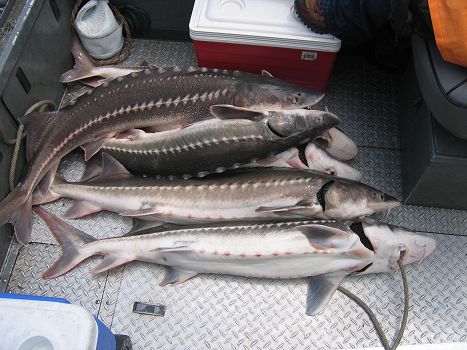 Six keepers caught in the Columbia River estuary near Astoria!
"Keeper" sturgeon are fish that measure 38" - 54" from the fork of the tail to the tip of their nose. A 38 inch fish is going to weigh approximately 20 pounds and 54 inch fish can weigh over 55 pounds! Your sturgeon are all going to be filleted, but make sure you bring a big cooler because four to six filleted out sturgeon provide a lot of meat!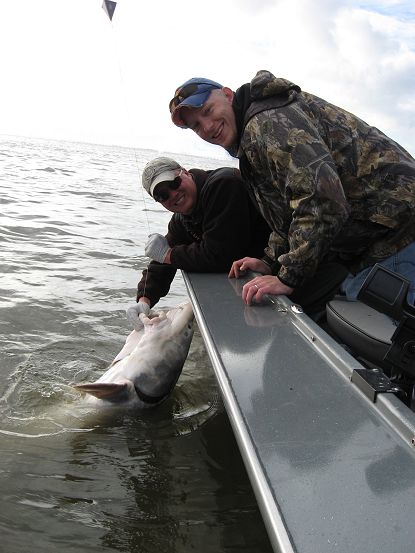 A seven to eight foot sturgeon caught on the lower Columbia!
Sturgeon measuring over 54 inches in length are truly giant fish! These fish can weigh over 1000 pounds and attain lengths over twenty feet! These huge fish are called "oversize sturgeon" because they are longer than the length you are allowed to keep. When you are battling one of these bruisers you're going to know it! Oversize average 5 to 10 feet in length and fish longer than this are not uncommon.
Hooking one of these beasts and seeing them jump and completely clear the water is an amazing site, enjoy it ... because your in for a 20 to 60 minute battle of wills that will test the endurance of the most seasoned angler!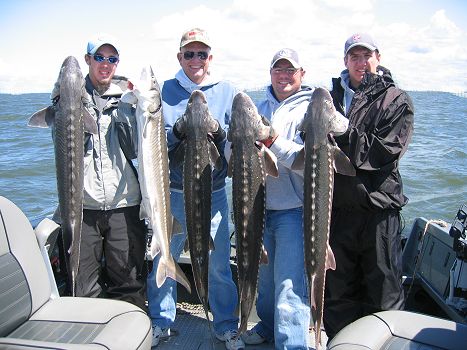 Happy sturgeon fishermen from Vernal, Utah; with a nice haul of keepers!
Sturgeon Fishing Seasons
White Sturgeon can be caught throughout the year and our catch and release sturgeon fishing is really incredible. However if you want to keep a sturgeon, then there are specific specifc seasons and locations that we fish for them.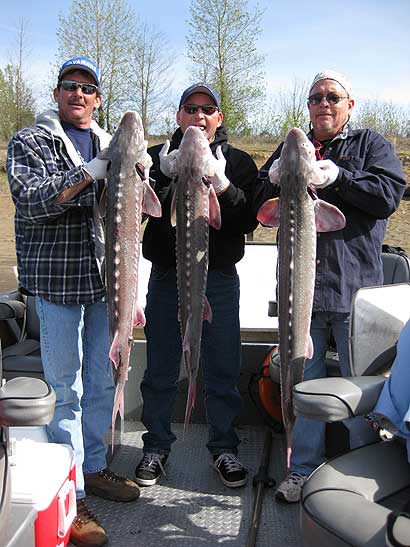 Willamette River Sturgeon fishing! These three keepers couldn't stay away from our really high quality smelt!
January, February and March is the beginning of our sturgeon season and during this time you will find us on the Willamette River in Portland, Oregon. This is a fantastic fishery with one of the highest catch rates of the year and keepers are common.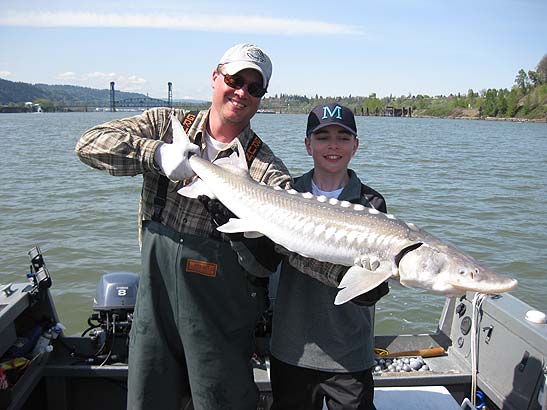 Kevin and a happy customer with a really nice keeper sturgeon caught on the Willamette River!
April - May is when the Columbia Rivers' temperature begins to rise and the sturgeon leave the Willamette to migrate downstream to Astoria to meet the arrival of the huge schools of achovy and shad that are going to enter the river in late spring and summer. We know the perfect locations to intercept them when they are making this migration.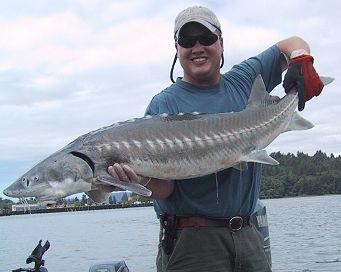 Kevin with a 54" sturgeon caught in the Columbia River estuary in eight feet of water!
May, June & July is when it's time to head to the lower Columbia River near Astoria, Oregon to catch the huge numbers of White Sturgeon that come in from the ocean to feed on the abundance of food that spends the summer in the Columbia River Estuary.
Fishing in the estuaries shallow tidal flats and catching HOT sturgeon in 6 to 8 feet of water on light tackle is a blast! We use anchovies and sand shrimp for our sturgeon bait during this time and these fish just jump all over it!
Large numbers of keeper sized fish, an average of one to two oversize fish a day, great weathe and beautiful surroundings make this a very popular trip.
More Pictures of Columbia River Sturgeon Fishing! Click Here!
Kevin and Lacey's 24' & 25' custom built guide boats can comfortably accommodate up to 6 sturgeon anglers and everything you want to bring.
Sturgeon Fishing Package
A full 8-hour day of fishing.

Pictures of you and your fish in our web gallery.

Your fish filleted and bagged for the trip home.

All the tackle and bait you need during your trip is included.

Full day: $225.00 per person

Total Fisherman Guide Service is:
Coast Guard Certified Merchant Marine Captains holding a 25 Ton Master licenses

Fully Insured

CPR and First Aid Certified

Kevin's guide boat!

Lacey's Guide Boat!

Please don't hestate to call or email if you have any questions at all.
Thanks and we're looking forward to fishing with you!
Email: kmnewell@totalfisherman.com
Phone: 360-430-2521